Tuesday, June 28, 2005
Annual Time
We'll both be away for a few weeks, so blogging will be scarce. In the interim, here are a couple of my favorite photos from last year.
---
Monday, June 20, 2005
Beating the Transponder Gremlin

Yellowbird's transponder gremlin has had a lengthy but unwelcome residency. He's been there at least since I met Yellowbird in February of 2004. The ferry pilot who delivered her noted some problems with the transponder, despite her just having passed her biannual transponder check the previous month. As Yellowbird and I got to know each other, we sometimes experienced problems with her identity, including incorrect squawk codes, intermittent transponder responses, and occasional mode C errors. Twice I took her to the Radio Shop at
Worcester
to have things checked, and both times everything checked out fine, but still the problems persisted. It was bad enough that I was hesitant to request radar advisories or fly in class C or B airspace.
The last straw came a few weeks ago when we were scolded out of the sky by Bradley approach while practicing ILS approaches. The transponder's antics were annoying them so much that they asked us to land and not bother them again until the transponder was fixed. Back to the shop we went and a temporary replacement transponder was swapped for the bad one. We went up again a few days later for more practice, and this time we only had a faulty mode C reading. That was enough to end that day's lesson, and arrangement were made to get back to Worcester to have the altitude encoder looked at. The weather didn't look good for the rest of the week, but the Transpondoctor was willing to try his best as soon as we got a chance to visit again.
That chance came earlier than expected, as Friday's weather defied a gloomy forecast. We arrived at the shop at the appointed time and Dr. Squawk set up his equipment. This included a test apparatus I had seen before, consisting of a transponder test box with a remote antenna. The antenna was set up close to Yellowbird's transponder antenna below the baggage compartment, and when turned on, it confirmed that the transponder was communicating appropriately. A second piece of test equipment comprised a magic box containing assorted air pumps and valves, as well as the three standard pitot/static instrument: airspeed indicator, altimeter, and vertical speed indicator. This was connected to Yellowbird's static system, and when activated, it would adjust the air pressure to simulate the environment at a desired altitude.
With the transponder transmitting the altitude, the good Doctor worked the magic box to take Yellowbird up to a simulated 3,000 feet. As the altimeter on the magic box ascended, the mode C readout on the transponder test box echoed the altitude. Holding level at 3,000 ft, everything seemed fine. On a hunch, the Doctor began thumping the side of the encoder. Each time he thumped, the mode C readout on the transponder test box would flicker. When he stopped, it read steady at 3,000 ft. He thumped some more, the digital readout flickered again, and after a few seconds, it suddenly dropped to 2,500 ft. and stayed there. The altimeter on the magic box still showed 3,000 ft. It appeared that we had found our gremlin.
A replacement encoder was produced, and a few minutes with a screwdriver saw the transplant completed. Again, the boxes were hooked up and the air pump chugged gently and took us back up to 3,000 ft. Watching the slowly ascending needle and the corresponding digital readout, I was reminded of the scene in Apollo 13 where the mission controllers anxiously watch the telemetry data coming from the crippled Service Module, hoping that the oxygen leak can be stemmed by shutting down the fuel cells.
In our case, we reached 3,000 ft again with no problems. Again, the Transpondoctor thumped. Again the readout flickered. And again it dropped suddenly to 2,500 ft. I knew that Yellowbird wasn't going to be trapped in lunar orbit, but imagining the imminent slow leak of money from my bank account gave me a similar sense of foreboding. But the Transpondoctor, with many years of practical experience, saw something that I hadn't. Below the digital readout on the transponder test box was a group of about a dozen LED lights, apparently one for each wire in the harness connecting the encoder to the transponder. As the altitude changed, each 100 ft. increment was indicated by a different combination of lights as the encoder translated the altitude to a binary code. As he thumped and observed the flickering display, he noticed that one light in particular was prone to cutting out. Crawling under the panel, he probed at the wiring harness until he found the corresponding wire. One tug told him all he needed to know. He disassembled the connector plug at the encoder end of the harness and confirmed that the solder joint had failed leaving only the tight confines within the connecter to keep the wire in contact with the plug. Five minutes with a soldering iron set things to rights, and with the original encoder reinstalled, we ran the test again. This time the altitude held steady throughout even the thumps.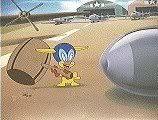 We were back in the air less than an hour after we had arrived. With a freshly soldered connection, Yellowbird seemed a bit more sprightly than usual, and I let her romp around a bit among the scattered cumulus. Over the weekend we spent nearly two and a half hours shooting approaches at Westfield and
Westover
, with no complaints from Bradley. The loaner transponder has done well so far, but once next month's annual is out of the way, we'll be getting a permanent replacement. Yellowbird at last has a healthy sense of self, and we can confidently contact ATC without fear of rejection. As for the gremlin, who knows where he has been hiding. He was last seen eying a large mallet at an undisclosed Air Force base, apparently
up to no good
.
---
Friday, June 17, 2005
Round-Engined Goodness
I was at the airport the other evening, washing bugs off the Yellowbird, when I heard a distinctive sound coming from midfield. It was something between a growl and a rumble and a throb, and it echoed off the nearby hangars until it was difficult to tell exactly where it came from . I knew at once what it was. It was a sound that once filled the skies of America, particularly in the south and west, but which is rarely heard these days. It was the sound of a radial engined aircraft.
Update:
If you like airplane engines, round, square, or
triangular
, you might want to visit the
Aircraft Engine Historical Society
. Their website has many cubic inches of fascinating information on airplane engines, including historical and engineering articles, photographs, and even sound recordings of these amazing engines.
(The W-670 photo is hosted on
AeroFiles.com
.)
---
Wednesday, June 15, 2005
A Visit to the Transpondoctor

Yellowbird has always had a bit of an identity problem. Specifically, her transponder has been intermittently intermittent at least since I bought her. Even the pilot who delivered her had problems. At times it would read correctly, but sometimes ATC would report the mode C as being either dramatically off or missing altogether. I've had a few times where ATC reported an incorrect squawk code, and even once where they told me that they were picking up two different squawks, one digit apart. Like any good pilot, I assumed that if I ignored the problem, it would eventually go away. Gremlins really only want attention, and if they don't get it, they will usually move to someone else airplane. Unfortunately, my transponder gremlin decided that if I wasn't going to pay attention, it would appeal to a higher authority.
For the past month or so,
Faithful Instructor George
has been enduring my attempts to master the intricacies of instrument flying. The last two instrument lessons were filed as IFR so that we could do some approaches at KBAF. We had been with Bradley approach for only a few minutes on the first lesson last week when they asked us to confirm our altitude. We had been cleared to 4,000 feet, but had overshot by about 500 feet and was wandering up and down as I tried to get trimmed for level flight amongst the thermals of a warm humid afternoon. I sheepishly reported that I was returning to 4,000, but the tower replied that they had our mode C indicating 1,100.
The mode C issue of last week's lesson was only the beginning of troubles. We reset the transponder to no avail, and then turned off the mode C. From then on, ATC frequently asked us to confirm our squawk code, and finally asked us to change to a similar code of one digit's difference. We had both copied the same code when we got our clearance, so we wondered if maybe ground had given us the wrong code, but our next lesson was to dispel that suspicion.
This time, Bradley immediately started to question our squawk. They didn't report any mode C issues, but they told us that they were getting multiple hits off our transponder, with different codes, and that we were setting off all sorts of alarms in their system. We had planned on three approaches, and while vectoring us for the third, they got sufficiently fed up to tell us to make it a full stop and don't come back up until we got the transponder fixed. We were going for a full stop anyway, so we landed and concluded the lesson.
Yellowbird has been to Worcester to see the transpondoctor twice in the last 12 months to have this issue looked at, and both times, the transponder and its fittings checked out perfectly on the ground. Still, he cleaned the connections and re-racked the transponder just to make sure that it wasn't a case of dusty electrical connections. If that didn't clear things up, his next trick would be to temporarily replace the transponder with a fresh unit of the same model. After being scolded out of the sky by the Bradley controller, we didn't have a choice.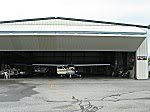 Yesterday Yellowbird and I braved the bumpy skies for the short trip over to Worcester for a third visit. The afternoon thunderstorms had moved east, leaving low ceilings and plenty of turbulence, but we still had decent VFR conditions. At Worcester, the transpondectomy involved nothing more complicated than sliding the old unit out of its rack and sliding a replacement in to take its place. I'll fly for a few weeks with the replacement. If I still have problems, we'll know to look for another solution. If not, then Yellowbird will be getting a new transponder.
Update:
We went up for another instrument lesson this evening. We had no apparent problems with the transponder's squawk, but the mode C, which checked out fine on the way back from Worcester, was now reading about 1,000 ft low. The weather is supposed to be nicely IFR for a few days, so I may not get the chance to have this checked out for a while. Dang. At least I got in 20 minutes of actual, as well as my first ILS approach in IMC.
---
Sunday, June 12, 2005
Buy Me a Cardinal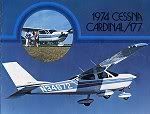 Every aircraft is required by federal regulations to carry certain documents on board at all times. These include the airworthiness certificate, the aircraft registration, the operating handbook, and the aircraft's weight and balance specifications. A prudent aircraft owner will also obtain copies of the service manual and parts catalog to help in evaluating plans for ongoing maintenance. But the true airplane geek will go to great lengths to find original copies of the sales brochure and price list. These can be found on
eBay
for a reasonable price, and for those of us who fly older aircraft, they can be an interesting trip down memory lane as well as a revealing look at advertising practices of years gone by. In Yellowbird's case, we go all the way back to 1974. Fortunately, the general aviation market seems to have been spared some of the worst stylistic offenses of the 1970's, but there's still enough to make us thankful for the passing of years and fashions, even as we lament the all too short production run of our favorite Cessna.
So, put on your powder blue leisure suit, grab the plaid pants-suited wife, and with a nod to
James Lileks
, come with me back to a time when avocado green was exciting, poor grammar in a professional business context was fashionable, and Cessna avionics cost about the same as they do today. Are you ready? Then...
---
Monday, June 06, 2005
How to Get to Carnegie Hall
A few months ago, I got a special e-mail invitation from my father. His
church choir
was to be part of a 300 voice chorus assembled for a performance of the
Verdi Requiem
by the Manhattan Philharmonic in
Carnegie Hall
. I hadn't seen Dad since Thanksgiving a few years ago, and New York is only a few hours drive from Westfield, so I was eager to attend the concert. I've driven through NYC a few times on the way to points south, but I've never driven to the city, so I was unsure of the best way to get there. A few contacts yielded recommendations of driving to one of the nearby cities and taking the train into Manhattan, and the
MTA website
provided a list of potential stations with parking options, but I still felt that there had to be a better way. I had never flown Yellowbird to the New York City area, but this seemed to be a mission perfectly suited for her. Again, contacts yielded recommendations on airports to fly in to, as well as options for getting from the airport into Manhattan. Yellowbird was fueled up, and if the weather cooperated, we were ready to go.
It was a rare springtime weekend that saw perfect flying weather for more than a few hours at a time. The threatened rain moved out of the area much earlier than forecasted, so we launched on schedule for a one hour flight.
Teterboro
was our destination, and we joined the busy stream of corporate jets for arrival. After parking, a short bus ride took me into Manhattan, and a short walk got me to Dad's hotel in time to join him and his wife and daughter for lunch. They had just finished the morning rehearsal, and they had the rest of the day off, so we set out to see the sights. The subway took us south to
Ground Zero
, and from there we went south to
Battery Park
. After wearing out our feet, we caught the 6:00 bus back to Teterboro, where I had prepared for some evening sightseeing.
A few months ago I attended an FAA seminar on flying the
Hudson River VFR corridor
, and armed with pages of notes, I prepared a kneeboard-sized itinerary listing altitudes, radio frequencies, and reporting points. The river has a reputation for confined airspace and heavy traffic, so I wanted to be as prepared as possible. As it turned out, the river traffic was very light, and I even had time to take a few photos along the way.
After returning to Teterboro, I dropped Dad and crew off at the FBO from where they were taken to the bus stop for their ride back to Manhattan. Yellowbird and I departed at dusk and had a beautiful night flight home. On Sunday morning, I departed again, with a friend along for the ride and concert. We repeated the route from yesterday, and after lunch in a small but excellent eatery, we took our seats in Isaac Stern Hall.
As for getting to Carnegie Hall, that's pretty easy: From KBAF, take Victor 106 to the Pawling VOR, then direct to Teterboro. After landing, either walk to or have the FBO car drop you off at the
New Jersey Transit
bus stop at Rt. 46 and Industrial Ave. Take the
#161 bus
to the Port Authority Bus Terminal. From there, either take the
E Train
to 7th Ave, or ask any New Yorker and you will get
proper directions
.
---
Saturday, June 04, 2005
In Memoriam
June 4th marks the 63rd anniversary of the
Battle of Midway
, the decisive WWII battle which turned the tide of the war in the Pacific against the Japanese. Midway has been the subject of many books and a few motion pictures, so I won't go into the details of the battle other than to retell the basic details.
A Tribute
Before I met Yellowbird, my aerial adventures were limited to reading books on aviation history, and building models of whatever airplanes caught my fancy. I was actually very good at it, and I won enough awards at various model competitions to fill several boxes in the basement. One ongoing project, inspired by reading
The Big E
, Edward Stafford's biography of the
USS Enterprise
(CV-6), was to build a collection of models representing the aircraft flown by the various air groups that operated from the Enterprise during the war. The following three models from this collection depict aircraft flown by
Enterprise Air Group
during 1941/1942, and are presented here in honor of the bravery and sacrifice of those who fought at Midway.
(Historical photographs are hosted by the
Naval Historical Center
)
---
Thursday, June 02, 2005
A Better Mood
Yellowbird was a few days on the ground sulking out her bad attitude indicator while I made arrangements to get her to the shop. Fortunate the wait was short and the following Friday afternoon allowed a quick trip to Turners Falls. My mechanic suspected that the shock mounts for the gyro panel might need replacing, so we started there. It wasn't an easy job, from the looks of it, but he managed to replace each of the four small rubber panel mounts without removing the panel itself. We then ran up the engine throughout the range where the vibration was occurring and had no problems. An hour and an hour's worth of labor, plus the cost of parts, and we were on our way home. She's been stable for the most part since then, although sometimes I see some vibration while cycling the prop during runup. My mechanic recommended getting the prop rebalanced, which has been on my nice-thing-to-do-someday list, so I'll move it up to the top of the list.
Faithful Instructor George and I went up the next week for an instrument lesson under simulated conditions. He put me through the standard routine of Pattern A, steep turns, and recovery from unusual attitudes. After about four recoveries, George pulled out the Post-it pad and failed the attitude and heading indicators and we did a few more recoveries. He was really having a good time getting me disoriented, and when I looked up to recover from another unusual attitude, I noticed that he had drawn a smiley face on the Post-it covering the attitude indicator. It was a fun lesson.
---