Friday, December 31, 2004
The Year of the Yellowbird - 2004
In 2004, Yellowbird and I logged 90.9 hours of flight time. In that time, she burned about 840 gallons of 100 octane low-lead aviation gasoline (for an average hourly burn rate of 9.2 gallons per hour) and drank in about 30 quarts of oil (approximately 14 quarts of which were drained during oil changes).
We logged 259 landings, and if the laws of physics and good piloting were honored, then we had an equal number of takeoffs. We visited 21 different airports in 4 different states, and carried about 20 friends, many of whom had never flown in a small plane.
---
Thursday, December 30, 2004
A Bit of Cardinal History
Cessna's Cardinal (model 177) was introduced in 1968 and was supposed to supplant the venerable model 172
Skyhawk
, production of which began in the mid 1950's. The Skyhawk is considered to be one of the most popular light aircraft ever produced. It is easy to fly and relatively inexpensive to operate and maintain. Its simple design and construction have seen only a few changes over the last half-century, testimony to a sound design, but the Skyhawk is still essentially a 1940's airplane. The cabin is cramped, access is limited by the small doors, and visibility suffers due to the position of the wing and the presence of wing struts.
The Cardinal was intended to improve on these characteristics and reflected many of the advances made in aircraft design up to the mid 1960's. Construction was more refined, with flush-headed rivets on the wing and more attention paid to aerodynamic efficiency. The cabin was much roomier, and the two very large doors provided easy access. The instrument panel was designed to place all instruments in clear view of the pilot, and the position of the strutless cantilever wing provided a level of in-flight visibility that was unmatched by any other single-engine high-wing aircraft of that time. Overall, the Cardinal presented a sleek, streamlined appearance, and it is still considered by many to be one of the most attractive single-engine general aviation aircraft ever produced.
Yellowbird is a 177B, meaning that she represents the third major variation of Cardinal development. The original 1968 model 177 had a Lycoming O-320 engine of 150 horsepower turning a fixed-pitch propeller. The wing was a new design descended from the Cessna 210, and featured a high-performance laminar flow airfoil. The 1968 models were found to be underpowered, so in 1969 the 177A model was introduced, powered by a more capable engine (Lycoming O-360) providing 180 horsepower. Concerns about the low-speed handling of the original 177 wing led to a further modification in 1970, when the airfoil shape was changed to give better performance at low airspeeds. This, plus a constant-speed propeller, defined the model 177B. In 1971, the Cardinal RG was introduced, featuring a still more powerful fuel-injected engine (Lycoming IO-360, 200 hp) and retractable landing gear. Many other minor changes took place during the 10 years of Cardinal production, ranging from assorted aerodynamic enhancements to a wider instrument panel.
Sadly, the Cardinal suffered from a poor reputation earned by the underpowered 1968 models. Sales and production of subsequent year models never exceeded that of the 68's, despite the refinements that cured most of it's shortcomings. By 1976 the Cardinal had essentially reached the pinnacle of its development, but lagging sales and the high cost of construction were to spell the end of the line two years later. Meanwhile, Cessna had resumed production of the Skyhawk, which continues to fly out of the Cessna factory to this day.
Despite its relatively limited production run, the Cardinal's many virtues have made it something of a cult favorite. Cardinal owners tend to cherish their birds, and have established an unofficial owners' association in the form of the Cardinal Flyers Online. The
CFO website
is a treasure trove of information on the Cardinal, and a daily e-mail digest keeps past, present and future Cardinal owners in touch with one another while providing an exhaustive clearing house of ideas on every aspect of Cardinal ownership.
---
Wednesday, December 29, 2004
Who is Yellowbird?
Yellowbird is a 1974 Cessna 177B Cardinal. She is one of over 4,000 Cardinals built between 1968, when Cessna introduced the Cardinal, and 1978, when Cardinal production came to an end. She actually rolled out the factory door at Wichita, Kansas, in October of 1973, and according to her logbook, she spent the first several months of her life close to home, apparently doing demo flights for prospective buyers.

When I first met her, she was based at Plymouth Municipal Airport (KPYM) in Plymouth, Massachusetts. It was in January of 2004, and I was looking to buy my first airplane. She was the second of three Cardinals that I looked at, and her relative youth (she had a little more than 2,000 hours on her airframe) and a recently overhauled engine were among the qualities that endeared her to me.
Our first date was chaperoned by an instructor from Alpha One Flight School and consisted of a short flight around the Plymouth area. The next phase of our relationship involved much paperwork and a thourough checkup of her health by the good folks at Yankee Aviation Services.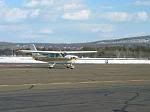 In February, she was delivered to her new home at Barnes Municipal Airport (KBAF) in Westfield, Massachusetts. Since then, we've spent nearly 100 hours together in the air, carried about 20 of our friends through the sky, and have visited four states.

The name "Yellowbird" was the winning entry in a contest conducted on the message board of iPilot.com, a popular aviation website. There were many creative entries, but "Yellowbird" was a clear favorite from the moment it was nominated.
For the record, Yellowbird's colors are Tiger Yellow and Summer Gold, over Vestal White. This blog's color scheme is a close approximation of those colors.
---
Tuesday, December 28, 2004
Welcome
Welcome to the blog of the Yellowbird, my 1974 Cessna Cardinal. I will soon be posting accounts of our adventures in the air as well as other stories of interest.
Stand by...
---