Sunday, September 25, 2005
Yellowbird Takeoff
Yellowbird's first video appearance: departing Northampton (7B2) in September of 2005, narrated by the camerman and his son.
---
Monday, September 19, 2005
Landing, with Blimp
The
Hood Blimp
is visiting Westfield. It landed yesterday evening, and has been moored in the grass next to runway 20. It's not often you get to see a blimp from the air, even less so on short final, so here you go:
It makes a nice windsock, doesn't it?
---
Sunday, September 18, 2005
Rain Day at the Westfield Airshow
The 2005 Westfield airshow came and went amidst a mix of weather.
Day 1
saw perfect skies with essentially unlimited ceiling and visibility. Unfortunately, I wasn't there, as I was in Pennsylvania for a
Cardinal Flyers flyin
(to be blogged at a later date). I did make it to the airshow on Day 2, for which we had marginal VFR conditions for most of the day. A few of the aerial performers took to the sky, but they were limited to low-altitude routines. I left after an hour, which was spent mostly taking in the static displays and dodging occasional rain showers. Here's what I found interesting:
---
Friday, September 16, 2005
NOTAM: BAF 10/004 BAF ABN OTS
Or in plain English, if you like: Westfield/Springfield MA (Barnes Muni) [BAF]: October NOTAM #4: Aerodrome beacon out of service.
It's been OTS for some time now, and I don't know why. The ATIS broadcast will also tell you of the temporary beacon atop the control tower, in operation 24 hours a day. It's a puny little set of four lights that currently spins around endlessly all day long. OTS or not, the old beacon is a nice hefty looking piece of aerodrome equipment, much better suited to guiding a squadron of A-10's home to their 9,000 ft. runway. The temporary setup would look more at home in a discotheque, maybe with a mirror ball hanging from one of the antenna. Yellowbird might think back to the days of her youth, when such thing were in fashion.
Maybe she would like for me to get a
mustard yellow leisure suit
. Or maybe it's time to start browsing the
Airtex
catalog again...
---
Wednesday, September 14, 2005
Foggy Morning Preflight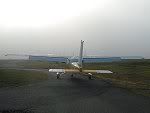 Last Thursday morning,
Faithful Instructor George
and I went up for a quick trip around the pattern. The morning fog was still blanketing the airport, so we filed IFR with the hopes of getting in at least one approach above the fog. As it turned out, the fog had mostly cleared by the time we took off, so we had to settle for an hour and a half of vectors, approaches, and holding, all under the hood in a clear sky. as we settled into the missed approach hold after the VOR 20 approach, George covered the attitude and directional gyros and we went round and round the track with a partial panel. With the exception of one very lopsided circuit, I did a pretty decent job of holding, but by the time we had been vectored to the final approach course for a no-gyro approach, my brain was slipping behind the airplane. I overshot the intercept and wallowed helplessly down the localizer for a few miles before George relented and gave me back my instruments. From then on, it was a fairly simple LOC approach. We tied down under sunny skies, with 1.3 hours of simulated instrument time in the logbook.
We did experience about three seconds of actual instrument conditions on departure as we climbed through the last billows of the clearing fog. Do you think I should log it?
---
Friday, September 02, 2005
New Orleans
We're all painfully aware of what has happened on the Gulf Coast. Although I'm far removed geographically from the area, this disaster has touched me a little more personally than it might have otherwise, for New Orleans is the city where I was born.
I still have relatives in the area, including my father, who lives on the north shore of Lake Punch-a-Train. He evacuated about 150 miles north, and has ridden things out with no problems. His home town took some damage from winds and flooding, but the house has come through with only minimal damage at worst. He'll be fine once he's permitted to return home, as long as the contents of the fridge don't spring to life and take over the house.
In the old neighborhood, the
house
where my family lived when I was born is flooded out. The hospital where I was born apparently doesn't exist under its old name, having merged with another hospital, but the
resulting facility
has been evacuated. The house where we lived after moving back from Houston in the late 1960's is in a part of town not affected by the flooding, as is the house where my father lived until he retired.
This is obviously a horrific disaster for those in the city. Still, it is a great opportunity for us to show compassion and generosity towards those who are suffering. If you haven't done so already I would encourage you to consider donating to one of the many charitable organizations that are offering assistance. My own choice has been
Samaritan's Purse
, but there are a
great many others
to chose from.
If you are reading this from a warm dry computer, with fresh water and electricity at hand, consider yourself fortunate, and be mindful of your blessings. And if you are able, please contribute whatever you can to help those whose lives have been so dramatically disrupted.
---