Wednesday, September 14, 2005
Foggy Morning Preflight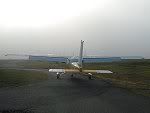 Last Thursday morning,
Faithful Instructor George
and I went up for a quick trip around the pattern. The morning fog was still blanketing the airport, so we filed IFR with the hopes of getting in at least one approach above the fog. As it turned out, the fog had mostly cleared by the time we took off, so we had to settle for an hour and a half of vectors, approaches, and holding, all under the hood in a clear sky. as we settled into the missed approach hold after the VOR 20 approach, George covered the attitude and directional gyros and we went round and round the track with a partial panel. With the exception of one very lopsided circuit, I did a pretty decent job of holding, but by the time we had been vectored to the final approach course for a no-gyro approach, my brain was slipping behind the airplane. I overshot the intercept and wallowed helplessly down the localizer for a few miles before George relented and gave me back my instruments. From then on, it was a fairly simple LOC approach. We tied down under sunny skies, with 1.3 hours of simulated instrument time in the logbook.
We did experience about three seconds of actual instrument conditions on departure as we climbed through the last billows of the clearing fog. Do you think I should log it?
Comments:
Posted by SkylanePilot at 10:36 AM, September 16, 2005

Greetings YB!

Being new to the blogosphere, it's taken me a while to find out where my fellow aviators hang out. Stumbled on to your site after discovering Google's new blogsearch tool. You've got a great blog going here ... I'll have to make it a regular stop.

BTW, I'm just down the "road" from you in BED. Stop on by sometime ...
Links to this post:
---