Wednesday, December 29, 2004
Who is Yellowbird?
Yellowbird is a 1974 Cessna 177B Cardinal. She is one of over 4,000 Cardinals built between 1968, when Cessna introduced the Cardinal, and 1978, when Cardinal production came to an end. She actually rolled out the factory door at Wichita, Kansas, in October of 1973, and according to her logbook, she spent the first several months of her life close to home, apparently doing demo flights for prospective buyers.

When I first met her, she was based at Plymouth Municipal Airport (KPYM) in Plymouth, Massachusetts. It was in January of 2004, and I was looking to buy my first airplane. She was the second of three Cardinals that I looked at, and her relative youth (she had a little more than 2,000 hours on her airframe) and a recently overhauled engine were among the qualities that endeared her to me.
Our first date was chaperoned by an instructor from Alpha One Flight School and consisted of a short flight around the Plymouth area. The next phase of our relationship involved much paperwork and a thourough checkup of her health by the good folks at Yankee Aviation Services.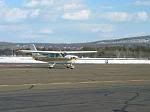 In February, she was delivered to her new home at Barnes Municipal Airport (KBAF) in Westfield, Massachusetts. Since then, we've spent nearly 100 hours together in the air, carried about 20 of our friends through the sky, and have visited four states.

The name "Yellowbird" was the winning entry in a contest conducted on the message board of iPilot.com, a popular aviation website. There were many creative entries, but "Yellowbird" was a clear favorite from the moment it was nominated.
For the record, Yellowbird's colors are Tiger Yellow and Summer Gold, over Vestal White. This blog's color scheme is a close approximation of those colors.
Comments:
Posted by at 9:46 PM, January 05, 2005

Nice site. Very infomative for new owners.
Links to this post:
---