Saturday, July 21, 2007
Yellowbird's Godfather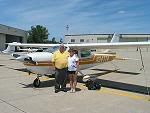 Back when I first bought Yellowbird, the gang at the iPilot.com message boards held a contest to come up with her name. The winning entry was suggested by a student pilot who went by the name of Cap'n Denny. Of course, the prize for the winning nomination was to be a ride in the newly christened bird, but living in Missouri, the good Captain was a bit out of range to collect his reward. Now that Yellowbird and I reside in the same time zone as Denny, there are no more excuses. Since he was passing through the area on a weekend trip, we made plans to meet up. The weather cooperated, and Denny even dressed for the occasion!

Denny is now a certified private pilot, and Yellowbird gave him a good workout. We explored the area, checked out the windmills, and went out for lunch. Well, done, Denny, and thanks for a wonderful name!

Comments:
Posted by at 1:38 PM, December 14, 2007

It was an honor to finally meet the famous Scott of Yellowbird fame. I enjoyed meeting you Scott, and Yellowbird is a beautiful airplane of which you are rightfully very proud.

Posted by at 1:18 PM, December 11, 2008

Yeah, it looks like a nice Cardinal but Scott seems to be a bit too much obsessed with it;-) After all, it's just a plane.
Links to this post:
---