Wednesday, December 05, 2007
Hanging the Engine: Day 2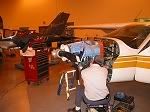 The hazards of having a day job: by the time I got away from work, they had already installed the propeller and exhaust system and Ray was busily wiring the various sensors for the JPI EDM-700 engine monitor. The baffle seals (the orange strips atop the engine and visible on the stool opposite Ray) are also being installed.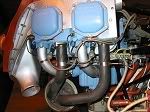 A Ray's eye view of the proceedings. The exhaust risers can be seen extending down from each cylinder to the cylindrical muffler below the engine. The bright silver bands on the risers are the clamps for the JPI exhaust gas temperature sensors, which can be seen as short tubes extending horizontally from each clamp. Ray did a pretty tidy job on all those wires, don't you think?

Up front, the propeller is in place, with the nicely painted spinner bulkhead. The alternator belt can be seen wrapping around the rear of the starter gear.

Overview of the right side, with the front baffle in place. The wires for the engine monitor have yet to be connected on this side.

Close-up view of the front baffle. (compare to yesterday's view) The alternator bracket has been temporarily removed while the baffle is fitted into place.

Last shot for today: this is the JPI oil temperature sensor, which threads into a hole in the front of the crankcase just above the #1 cylinder.

---