Monday, July 23, 2007
In the Wilderness of Western Iowa
While transiting Iowa by car on my way to Bloomington in May, I decided to take a detour to check out the Iowa Aviation Museum at Greenfield Municipal Airport (KGFZ). I had seen the signs on I-80 a few times but this was the first time I was driving by during the museum's hours of operation. I wasn't expecting much - maybe a dusty hangar on a rustic one strip airport, with displays of Billy Bob's helmet and goggles from his crop dusting days, and perhaps a couple of post war jets dragged out of Davis-Montham and mounted on poles outside - but after several months of aviatory idleness, I was ready for some aeronautical adventure.
After a 12 mile drive south of the interstate, it looked like my premonition was accurate. The airport was indeed rustic, with a few decrepit hangars and nary a living airplane in sight. And there were two boneyard relics on the lawn. I almost turned around and headed back to the interstate, but I was bored, and having come this far, I summoned up what little airplane geekdom I've managed to retain while enduring my unintended Yellowbird sabbatical, and went inside.
The friendly hostess greeted me, took my $3.00 admission and invited me to browse around. Inside was a collection of old military uniforms, a few radios, and seemingly random airplane bits and pieces in glass display cases. I was trying to figure out how long I could feign a polite interest before leaving when she gestured towards a door off to the side and said: "And the airplanes are in there."
Airplanes? Maybe this wasn't a wasted trip after all. I went in there, and ... well, keep reading...
"In there" was a tidy modern hangar packed pretty tightly with a little over a dozen vintage aircraft, mostly from the 1920's, 30's and 40's. They were in a superb state of preservation, many showing signs that they had been restored to flying condition. At first glance, the collection seemed to be randomly assembled, but the information cards for each aircraft revealed that most of them had some connection to Iowa and the Midwest. Some had flown regionally. Others had been owned and donated by local flyers, including one by a prominent aerobatic pilot. And some had even been manufactured in the area, providing a reminder that the Midwest has always been fertile ground for aeronautical fruit. As a whole, they told an interesting story of the early days of aviation in America's heartland.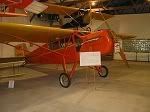 First we have a 1928 Curtiss Robin. The Robin was conceived in part to provide homes for surplus Curtiss OX-5 engines. The museum's Robin is not only the oldest plane in the collection, it's the oldest known Robin in existence, being the third one produced at the Curtiss factory near St. Louis.

You didn't get much in the way of instrumentation in your Robin: Airspeed indicator, altimeter, and tachometer. The single magneto switch is on the left. Above it is the lever for the venetian blind cooling slats on the radiator, and opposite that is the choke lever.

Another rarity with an even more local pedigree is this 1931 Kari-Keen Sioux Coupe 90-B. A bit of Googleing reveals that Kari-Keen was a Sioux City luggage manufacturing company that got involved in the aircraft business in the 20's. The Coupe's designer was one Swen Swansen from the University of South Dakota. You can't get much more Midwestern than that, can you?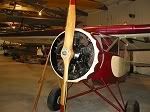 Up front is a 90hp Warner radial. The propeller was made by a fellow named Ole Fahlin, who turns out to be a bit of a legend in the world of handmade wooden propellers. A Swedish native, Ole was active in the aviation scene of the Midwest and produced wooden propellers for many aircraft through the 1940's.

Kari-Keen went bankrupt in 1931, with Coupe production being continued briefly under the Sioux Aircraft Corporation label. Only 32 Coupes were built. This one is #31.

The panel looks pretty busy for the era. With the addition of oil pressure, oil temperature and a compass, you have twice as many gauges as the Robin.

Side-by-side seating and a single lap belt must have made the Coupe a fun little plane for taking your best girl out for a date.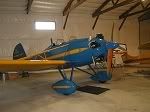 Here we have a rare Aetna-Timm Aerocraft 2SA - the only one still in existence. The Aerocraft was built in 1941 and was intended to be a military trainer, but it didn't make the cut. Only six were built. This one is #4. The Timm company had a number of more successful designs to its credit, including the N2T-1 Tutor trainer operated by the U. S. Navy.

You solo from the rear seat. The brass placard above the inclinometer reads: "Don't do anything dumb".

This is one of two deHavilland Tiger Moths in the collection. This one was built in Australia.

It still has the original instruments, including the unique British style turn and slip indicator and the large horizontally mounted compass.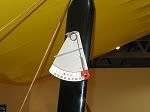 A spring loaded airspeed indicator is mounted on a wing strut. It must have made for an interesting instrument scan pattern.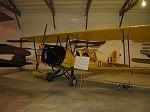 The second Moth was built in Canada. Both date from 1941.

The Cub is a J-2 from 1937. The museum also has a 1946 J-3 which still flies, but it was not on display.

Typical Cub panel, but not as stylish as some J-3's.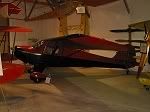 A 1946 Taylorcraft BC12. Compared to other aircraft in the collection the Taylorcraft looks almost modern.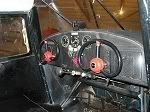 Still, the panel is basic, although more than adequate for VFR flight. After all, who needs instruments in a T-crate?

Your typical Stearman today is a veteran of military training during WWII, but this Kansas-built C-3R dates all the way back to 1929.

It carries a lot of regional history, having flown the mail out of Sioux City in the early 1930's.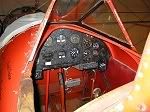 The panel appears to be of a more recent vintage than the airframe, being equipped with modern gyroscopic instruments and a transponder.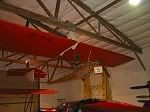 A few gliders and ultralights hung from the ceiling. This is a Northrop Primary Glider from 1929.

This 1956 Schweizer is one of the newer aircraft in the collection.

Outdoors is an A-7 from the Iowa Air National Guard.

The Iowa Army National Guard is represented by an AH-1 Huey Cobra.

Most of the collection is housed in this modern hangar. It also contains a library, assorted aviation artifacts, including remnants of the plane in which boxer Rocky Marciano was killed, and the Iowa Aviation Hall of Fame.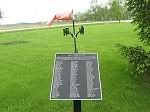 A plaque, complete with miniature windsock, honors Iowa's aviation pioneers: "These are the names of the persons who managed Iowa's early General Aviation (Fixed Base) Operations. They are the dedicated few who worked long hours on mostly small, county seat airports and were the grass-roots builders of the General Aviation business in Iowa as we see it today."

The main ramp at Greenfield Municipal shows a mix of rustic and modern facilities. The main hangar appears to be used for storage - dimly visible through the windows were the skinless carcasses of a couple of taildraggers and other assorted odds and ends.

One of two t-hangars - this one houses a few boats and trailers and a small piece of construction machinery, but nothing with wings.

100LL can be had for $3.26. The sign above the pumps reads: "No spraying planes are allowed to fuel".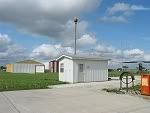 A small shed serves as a pilots lounge. It was surprisingly comfortable and well-equipped inside, with restrooms and a computer terminal for flight planning.

In general, Greenfield Municipal seems a pleasant little airport, although it was very quiet the day I visited. The Iowa Aviation Museum is a gem and well worth the effort to visit. Hours of operation for the museum are from 10:00 am to 5:00 PM Monday through Saturday, and 1:00 PM to 5:00 PM on Sundays.
Comments:
Posted by sylvia at 7:24 AM, July 05, 2008

What a wonderful surprise to find this place!

I realised belatedly that I hadn't added the accident report for the Centurion: http://www.aaiu.ie/upload/general/8359-0.pdf

It has more photos and some interesting comments.

Pine needles in the fuselage... *shakes head*
Links to this post:
---