Saturday, August 04, 2007
Cracked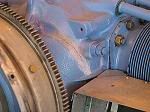 This is what you don't want to find when you take your plane in for her annual inspection. Otherwise, she's a healthy bird, but this crack is going to have to be fixed and I fear it's going to be expensive. I'm checking into options, but the most likely resolution will be to remove the engine and ship it back to the shop that did the major overhaul in 2001.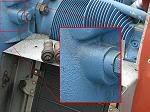 Here's a view from last summer when I changed the spark plugs. If you know where to look, the crack is there. To think that I've flown about 75 hours on that engine...

Another view, from 2005. You can't really see enough to tell if the crack was there back then. There does seem to be some oil on that area of the engine - that's what tipped off my mechanic. Thank God for his attentiveness and good eyesight.

Ironically, the most recent issue of Light Plane Maintenance magazine (Aug 07) has an article about cracked crankcases. I read that article a few days ago. I was thinking that it could never happen to me, not with my little low-HP four-banger...
Hmmm... are there any magazines that run articles about recent lottery winners?
Comments:
You know of course that the term Yellowbird holds a very special meaning to me. My Dad was a Yellowbird and I was raised in a Yellowbird family. Northeast Airlines (1933-1972) changed their paint scheme and adopted the Yellowbird as their identity in 1968. It was probably one of the most successful airline promotions of all time. Capt Bob Mudge even wrote a book in 1969, the "Adventures of a Yellowbird" an autobiography of Northeast Airlines. Good luck with your Yellowbird.
Rand Peck

So, this was supposed to be that "well-maintained" great Cardinal that you bought after turning down the 3-bladed one near Boston and then the other one (that was later sold abroad)! Great choice!! By the way, the 3-bladed Cardinal (the first one that you "disliked" so much) is doing great! No problems with engine or otherwise (I know a guy who now owns it and he's happy). No cracks on the engine or anywhere else. See, after all, you're "Yellowbird" turned out to be the loser!!

You realize the only loser here is the coward unwilling to post their identity and hide behind the Anonymous tag.

Who is to know what the future will bring in a purchase like this?

Pretty lousy comment Anonymous.

The "boy" knows who I am and I don't care to reveal my identity to anyone else (at least not on this forum).

My earlier comment was for him not for you. Don't call me a loser if you don't know me. Just because you put your name, George, does not make you a winner!

I agree that future is unknown, but that's more reason not to overrate and over-praise what you got!

He bashed other planes on public forums even before he checked them out (and even put pics on his forum of those other planes).

So I wanted to make him aware that he was wrong and in the end, his "yellowbird" turned out to be the worst of all those planes he considered (and turned down). Live and learn!

Anonymous,

I don't imagine that I know you. I am not aware of anyone in the aviation world with whom I have a poor relationship such as would warrant the tone of your comments.

I have a hunch that I know who you aren't. You are probably not the person who owned the plane prior to the time I looked at it. He would be the only person who would have grounds to take offense at my evaluation.

I never met the prior owner, but I do know that he was active for a while on the Cardinal Flyers Online digest, where he posted occasional questions about maintenance and other issues. By the time I saw the plane, he had not been active on the CFO digest for a few years and I don't know when he sold the aircraft or to what extent its condition reflected his attentions as an owner. I knew from his digest posts that he had ambitious plans for this plane, but some of those plans either fell through or were done on a budget that didn't provide for a professional standard of workmanship. I tried to contact the prior owner to ask his impression of the airplane, but I never received a reply.

If the airplane had been offered for sale by its owner, then I might have been more sensitive in presenting my evaluation. Many aircraft owners take personal pride in their aircraft - it's more than just a machine, and the investment is emotional as well as financial. As it was, the seller was a dealer who had no personal connection to the airplane and no grounds for personal offense. And by the time I posted my evaluation, the aircraft had already been purchased, so he would have no fear that my comments might dissuade potential buyers either.

The Cardinal was eventually purchased and moved to New York. The buyer apparently made a significant investment in the interior and avionics, judging from the photos and descriptions in the online advertisement that he placed when he later sold the airplane. The next owner moved the Cardinal to the west coast and also invested some money in her before selling her. (I've corresponded with him and he apparently doesn't know you.) Google reveals that the aircraft was again offered for sale in 2007 by an outfit in Florida and has since been sold yet again. If the new owner is the acquaintance you spoke of, keep in mind that the Cardinal has now changed hands at least three times since I made my evaluation and may be in significantly better condition than when I saw her over four years ago.

As for the other Cardinal, I corresponded with the current owner when he was Cardinal shopping and gave him a glowing recommendation on that airplane. You may have been thinking of another aircraft when you stated that it had been sold abroad - the Cardinal that I considered is still active in the US, although with a new registration number.

And for the record, contrary to your assertion that I've "...bashed other planes on public forums.." this was the only Cardinal that I commented negatively on, and my weblog is the only public forum (to the best of my recollection) where I made such comments.

As for you, I bear you no ill will, but I am puzzled by the apparent offense that you have taken. If I have caused you offense I would be willing to take this discussion offline and hopefully clear up any misunderstanding.
Links to this post:
---